This week was the virtual Democratic convention so it's hardly surprising that Trump would be the target of partisan attacks against his lack of character, his incompetence, serial dishonesty… you know the words. What wasn't expected though was from how many directions the cannon balls would come.
Batter Up…
The barrage wasn't just from Democrats but his own party majority in the Senate Select Committee on Intelligence which used the media noise of the DNC convention to quietly drop the final 966-page addendum to its investigation into Russian meddling in the 2016 election. And a bombshell it is. The document is so persuasive of an active, ongoing conspiracy between the Trump campaign and Russian intelligence officers and crooked Russian oligarchs that the six Republicans on the committee were compelled to quickly release a joint statement denying that it proved "collusion".  The word "collusion" in Republicese is like "Beetlejuice" so of course they had to do that. Otherwise it would have been tacit admission that they had been Trump's quislings all along for denying what they hadn't even investigated yet. And that maybe Trump should have been convicted and removed by the senate after all.
Suffice to say, the Democrats on the committee called it what it so obviously was: an active, ongoing, organized conspiracy by both the Trump campaign and Putin's intelligence services to make sure Hillary Clinton didn't get elected and that Donald Trump did. Collusion, conspiracy; potato, potahto.
The Senate report was devastating for Trump and his longstanding denial of Russian interference. It unambiguously accused Paul Manafort, Trump's campaign manager, of being a "Russian agent" and a "grave counterintelligence threat" who made the Trump campaign susceptible to "malign Russian influence." It also criticized the FBI for some abuses in the investigation.That's sure to be red meat for Trump with which to whip up his faithful drones next week. But in the comparison it's like Jeffrey Epstein complaining that the feds didn't have a warrant to fly a drone over his Orgy Island. There wouldn't have been an investigation if there hadn't been credible evidence and probable cause that the Trump campaign was working with Putin. And, as it turned out, it was much worse than was even suspected back in 2016.
The report even said that the Senate had made criminal referrals to the DOJ back in June 2019 for Donald Trump Jr, Gerald Kushner, Steve Bannon and Erik Prince for their roles in this supposed non-collusion. So what's up with that, Barr?
The Hits Keep Coming…
But that wasn't the end of the humiliations for Trump this week. A salvo came from the DOJ as well. Today it was reported that Trump's desperate, crowdfunded effort to get his idiotic Mexican wall built, a/k/a We Build The Wall, was a scam. Trump's former White House Chief Strategist, mentor and right wing huckster, Steve Bannon, was arrested while living aboard a 150 foot yacht owned by a Chinese mobster off the Connecticut coast. It's almost as though Bannon knew it was coming so he could quickly sail into international waters after he got tipped off that the cavalry was on its way. Well, nobody warned him. He was taken into custody by federal agents and the US Coast Guard and charged with conspiracy to commit wire fraud and money laundering. He of course denies everything but he at least can't blame Democrats this time.
Also arrested and charged was Trump booster and We Build The Wall founder, Brian Kolfage, and two others. All of them are accused of embezzling millions from the GoFundMe campaign for personal gain. Bannon alone is charged with siphoning off over $1 million for himself. All are also charged with running an unlicensed nonprofit shell company and for laundering money through it. Just more of those "best people" from a president who has himself has been convicted of civil fraud twice in the past five years.
But wait, there's more!
Of course the liberal Fake News media had to extract its pound of chubby flesh with the provocative headline, Trump's Business Partners Allegedly Involved In Human Trafficking, Mafia Matters, Probable Money Laundering.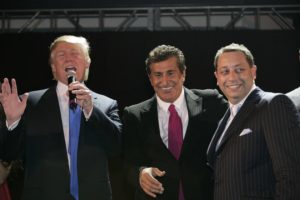 Hold on. That isn't the NY Times or Mother Jones. This is the conservative Forbes, the Capitalist Tool itself. It painted a stark picture of Trump as a man with no morals and no ethics eager to do business with anyone willing to enrich the ego and personal fortune of Donald J Trump, no questions asked. It doesn't matter if they're Russian mobsters or they're engaged in laundering money from criminal activities or they trafficked in under-aged prostitutes on a floating whorehouse on the Black Sea.  The article doesn't even mention Trump's long association with the homegrown Italian mafia and the deals he made in the 1980s with mobsters like "Fat Tony" Salerno and Philly soldiers under "Little Nicky" Scarfo that was so well-documented by Wayne Barrett.
In fact, we already knew that Trump's two partners in the ill-fated Trump Soho were a second-generation Russian mobster (Felix Sater) and a human trafficker (Tevfik Arif) and that Trump illegally tried to conceal that partnership from investors. But much more has been learned about these criminals since.
In 2017, the Dutch television show, Zembla, did a deep dive on these three men and their strange relationship.  It wasn't a pretty story. This is well worth the watching.
Spiking The Ball
Today, a ruling by US District Judge Victor Marrero, buried a familiar legal strategy that Trump has used hundreds and hundreds of times to delay justice and break his opponents. Marrero dismissed Trump's attempt to block Manhattan DA, Cyrus Vance, from forcing Trump to turn over his tax returns for a grand jury probe into numerous illegal acts by Trump. Marrero dismissed Trump's defense with prejudice too which prevents him from simply rearranging his arguments and submitting it again.
Among Vance's interests are the 500+ LLCs that Trump allegedly owns and whether or not they have also been used for money laundering. Bannon learned it from someone.
Of course, Trump appealed the ruling. More delay. We're unlikely to learn the details of Trump's tax returns before the election but I don't think it matters much. If you still support Trump after everything you heard and read about him, facts don't matter. Dishonesty doesn't matter. Cheating doesn't matter.
Capping Trump's Bad Day
For weeks both Republican and Democratic campaigns and its wonks created low expectations for Joe Biden's convention acceptance speech. Trump piggybacked on it all week with his usual school yard "Sleepy Joe" taunts. Democrats were quietly saying that if Biden got through it without a major gaffe they'd consider it a win. But Biden didn't show up sleepy. He unexpectedly knocked it out of the park with a forceful, passionate speech that was well-written, well-articulated, confident, gaffe-free and heavy on both policy ideas and cutting criticism of Trump's failed presidency. He accused Trump of once again destroying the gifts that others had handed him, an allusion to the thriving economy, job creation and low unemployment rate he'd inherited from Obama and himself. It was the best speech I've heard from Biden, loaded with quotable lines and a clever theme painting Trump as "the darkness".
Well, the lights will be burning late at the White House this week to find another new vector to attack Biden. So far they're batting 0.00.
1,041 total views, 2 views today