It's a curious thing. I can almost remember the very moment I got "into music".  My parents always had records playing on our Motorola cabinet hi-fi: Frank, Dean, Sammy, Broadway, Beethoven. I was almost tone-deaf to it. It was that moment when I was 14 and first heard the Beatles' "I Wanna Hold Your Hand" that my world changed. I didn't want a go-kart anymore. Or a Scuba rig. Or flying lessons. I wanted an electric guitar and amp. I apparently must have had some musical aptitude because the folks gently pushed me into it by buying me a ukulele, forcing me to take coronet and piano lessons and to join the church choir. I'm really not much of a singer. Or a guitar player for that matter. My next musical orgasmic moment was when I first played a bass. Bass was it. That was my calling.
I got a little off-track with the set up here. Maybe I'll do it again. Let's see.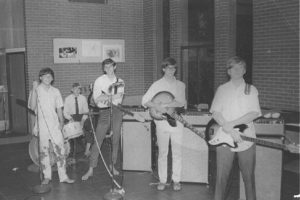 By the time I was 16 I had a band, Shapes of Things.  We played some Beatles, some R&B.  We actually did pretty well in the local DC music scene. We worked most weekends and I always had a little cash in my pocket. But I was getting pretty bored of the same music and, subconsciously, was waiting for the third "A ha!" musical moment. It came from an unusual event. My guitar player, singer and I had scored free tickets to a Jose Feliciano concert at the Carter-Barron Amphitheater in DC.  Truthfully, I couldn't have been less interested in Jose Feliciano. It was just something to do.
Feliciano's opening act was Sergio Mendes and Brasil '66. From the moment they started playing I sat up straight. What was this music?!  It was powerful without being loud. It was rhythmic without even a guitar player. It made you move your body. It was… different. The two hot female singers didn't hurt either.  Afterward, Brian, Jeff and I held an emergency staff meeting in the parking lot. The Shapes were dead. Long live whatever samba band a bunch of 15-17 year olds could manage.
We worked hard, found the right players and did very well as a Brasil '66 cover band. It was amazing how many embassies and Foggy Bottom cocktail parties wanted a teen-aged band that played music they related to and which also had two cute 16 year old girls in super-short miniskirts.
The point is, I have an affinity for world music. Fast forward to Lisbon, Portugal 2012. My lady friend was invited to one of her co-workers' weddings in Lisbon. I went as the +1. I love travel. That was all the convincing I needed. We decided to make it a two-week vacation with visits to Sintra, Porto, Guimaraes and Braga. And — she said — we're going to listen to fado. I falsely remembered fado as a kind of depressing form of flamenco but I agreed.
One night we went to the late show at Clube de Fado in Alfama… sort of the BB King's of fado. I was instantly attracted to it. It was simple and complex at the same time. There were some Spanish influences but also jazz, Moorish, a little blues, a little bluegrass, even some Broadway. It was like Portuguese cabaret.
There was a tall, stunning singer — I was told the correct title was fadista — Cuca Roseta.  She was mesmerizing.
When I got back to NYC I began researching fadistas with my typical obsession. For me, the music fit female voices better than males so I started listening to Amália Rodrigues, Dulce Pontes, Mariza, Ana Moura, Cristina Branco, and Gisela João. My favorite? Cristina Branco.
Cristina brings a bit more western/jazz style into her performances. She's also got a very trained voice. And I like her song choices.
I played this song for a female friend who had never heard fado before. Her comment was "My God! It's pure sex!" I wasn't prepared for that response.
Not surprisingly, fado isn't a huge musical phenomenon.  Even a lot of Portuguese don't care for it because it reminds them of the pre-Carnation Revolution days. Naturally, women with pipes like theirs have little trouble crossing over.  Here's one of my favorite Cristina torch ballads.