BMW announced this week that it will begin building two new plants in China and putting a hold on planned expansion of its US plant in Spartanburg, SC.  The South Carolina plant focuses on BMW's mainstream SUV production which it exports to 140 countries. According to the Munich-based BMW, the company needs to expand production outside of the US to avoid the 40% tariff that China recently slapped on American-constructed vehicles. This was in retaliation for Trump's idiotic steel and aluminum tariffs. BMW's goal is to ramp up vehicle production in China to 520,000 annually by 2019.
The Spartanburg plant employs 10,000 workers. While BMW didn't announce any layoffs it certainly means the loss of jobs that would have otherwise been created in the US by this production expansion.
Economic assault and batteries
huge battery-cell factory in the eastern German state of Thuringia. BMW has committed to buying $4.7 billion worth of battery cells from CATL once the factory in Erfurt is up and running in 2021. Daimler, maker of the Mercedes, has also committed to a multibillion dollar contract with CATL.
CATL is a factory that likely would have been built in the US under any past president, all of whom recognized that trade is global and that countries trade out of mutual self-interest.  Instead, we have a petulant peacock living in a 1950s world of phony American exceptionalism who's created a toxic business climate for our traditional trading partners.  Should we lift a brow in surprise given this grifter's 30-year history of wrecking most of his own businesses through mismanagement, false expectations and selfishness?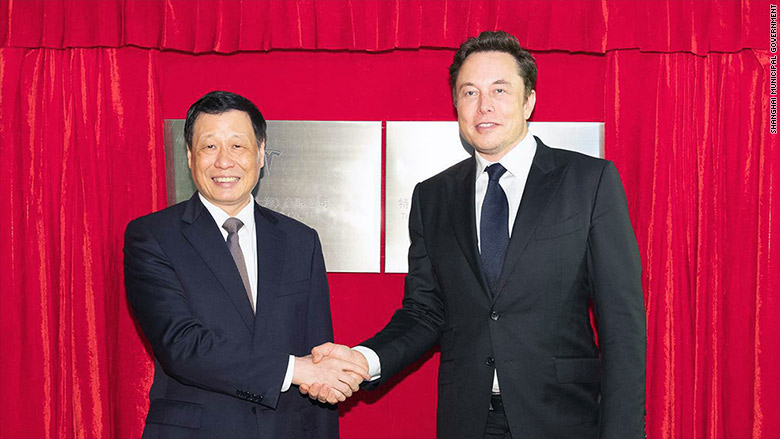 new factory in Shanghai that will produce 500,000 cars annually.  China suspended its longtime rule of American auto companies partnering with Chinese companies. It will allow Tesla to operate independently.  Tesla said Monday it can't absorb the 40% retaliatory tariff levied by the Chinese government in response to Trump. Cars built in China, even by US automakers, are not subject to that tariff.
So how's that "winning" going?
These aren't anomalies. Along with the recent kerfuffles involving Harley-Davidson, they're canaries in the coal mine.
Foreign auto and motorcycle manufacturers began constructing US factories in the 1980s to escape tariffs on foreign-made vehicles. Because the US is a huge consumer market, decentralizing production cuts transportation costs. America also makes a great staging area for Japanese made vehicles to export to Europe and vice versa. In addition to BMW, Honda, Toyota, Nissan, Hyundai, Kia, Subaru, Volkswagen and Daimler (Mercedes) also have manufacturing plants based in the US.  Collectively they employ hundreds of thousands of American workers.
But Trump decided to take a proverbial turd in the punchbowl of international trade beginning with his rejection of TPP and his relentless hostility towards our trading partners in NAFTA. Manufacturers aren't just  beginning to flee the US to avoid the crush of this Trump-initiated trade war.  Trump's arbitrary and self-defeating executive orders make doing business in the US unpredictable and dangerous.  It's making it much harder to attract foreign manufacturing investment to the US. The numbers bear this out; foreign investment in the US is down over one third since Trump became president.  These manufacturing flights of course also mean the loss of thousands of American blue collar jobs, both current and future, so it can't even be argued that he's doing this to protect American labor. Many if not most of them belong to Trump's own base.
n less than two months, three large vehicle manufacturers, Harley-Davidson included, decided that America's trade policy has become an albatross for manufacturers and have invested in new production facilities elsewhere.
The cherry on top
The dollar's value has been in a sustained free fall not seen in the last fourteen years. The US dollar is down a crushing 12% against foreign currencies since Trump entered office. But Trumpee economists say that's a good sign! A weak dollar means more exports and more foreign capital and investment in the US.  During any other administration this would have been true.
But CNN/Money reports that foreign investment is down a staggering 37% since Trump was inaugurated. The retaliatory tariffs struck in response to Trump's nasty bungling are targeting some of our biggest exports too so many American manufacturers aren't benefitting from the weak dollar.
It's exactly the opposite effect that Trump cited for his meddling with our trade policy.  However it's almost certainly bringing a huge smile to the face of Vladimir Putin, who benefits enormously from increased demand for Russian metals and grains. It also gives him new sources for foreign cash to offset US sanction threats. Furthermore, the steel tariffs are almost certainly going to start driving up oil prices and guess who has lots of oil to sell the West?
All this, thanks to the same showboating ignoramus who boasted that "Trade wars are easy to win". Trump is playing in only the first quarter and he's already down three touchdowns.
1,712 total views, 2 views today