Around dusk yesterday, Paul Manafort, Donald Trump's long-time associate and short-time campaign manager, emerged from a federal Corrections van and was escorted to his new residence in the Northern Neck Regional Jail in nearby Virginia.  This followed his arraignment that afternoon on eight federal felony charges ranging from money laundering to witness tampering to obstruction.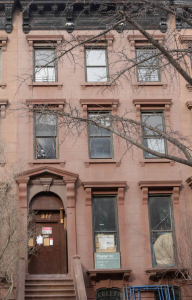 In yet another crushing defeat for Manafort, the judge found that he had broken the terms of his bail on numerous occasions. The government filed a motion that his $10M bond be revoked and that Manafort be remanded to jail until trial. The evidence is compelling, including a complaint from one of the unnamed witnesses against Manafort that he had tried to intimidate him and had the recording to prove it. The judge had no alternative but to rule for the government because Manafort had so brazenly violated the no-contact rule in his bail.  She also felt that these new indictments increased his flight risk.
Now is a good point to look back at how all this began with the curiosity of a Carroll Gardens, Brooklyn grandmother and her neighborhood blog. This trial is possibly the first crowd-sourced criminal investigation in history leading to federal indictments. Sure, Manafort's had a long and sleazy history doing dirty work for dictators and tyrants. He's been on the FBI's radar for years. But this incident is was what put him on the front page.
In February 2017, former Time/Life war correspondent, Ed Barnes, texted me about a neighborhood blog in Carroll Gardens, Brooklyn, called Pardon Me For Asking, run by a blogger, Katia Kelly. Katia's blog isn't much different than my Brooklyn Row House, with the exception that she updates hers a helluva lot more frequently than I do mine.
For quite some time Ed had been working the international angles on Paul Manafort, Donald Trump's ex-campaign manager. He focused on Manafort's management of the corrupt Ukrainian presidential campaign of big-time embezzler, Viktor Yanukovych, which resulted in corruption charges against Manafort in the Ukraine. Ed asked me to do some tech research for him, including trips into the Dark Web to retrieve information I definitely didn't want on my computer.
I remember Ed's comment when he sent me Katia's blog link, "Holy shit! She got him!"
Katia wrote about an eyesore property in her neighborhood that had a NYC Dept of Buildings Stop Work order on the front door. She did some research and found that the building was bought by Paul Manafort a few months earlier. She dove into public records at the NYC City Register's Office and learned that it was purchased for under $3 million but, curiously, had $12 million in mortgages on it, split between two banks, including one with the unfortunate name, FSB. There were other suspicious records associated to his LLCs in the Dept of Finance database too. The FSB mortgager would later turn out to be a second-floor private bank with very low assets run by Stephen Calk, a member of Trump's economic advisory board. These deals had all the earmarks of money laundering.
Spoiler: Calk was also on Trump's Economic Advisory Committee. He too went to prison over this scandal.
Banks don't normally write mortgages for 4x the value of the property so this story attracted a real estate attorney from the neighborhood who was a casual visitor to Katia's blog. He contacted a friend in Bay Ridge who was also an attorney. Together, they created their own blog, 377 Union, (the address of Manafort's Brooklyn building) to focus on these suspicious transactions as well as other strange Manafort dealings.
Nine months later, Paul Manafort and his deputy were facing federal charges adding up to scores of years in prison, millions of dollars in fines and the Trump White House in full damage-control mode. Today Manafort is in jail, possibly for the rest of his life, unless of course Trump pardons him to keep him quiet. Trump has attempted to minimize his relationship with Manafort with "he only worked for me for a very short time", which is a lie.  Manafort and Roger Stone had Donald Trump as one of the first clients for their Washington, DC public relations firm back in 1982. The firm worked with Trump until the early 90s, when Manafort went to work for corrupt Putin-backed candidates in the Ukraine and Africa.
BONUS: Rachel Maddow reports on a Halloween prank against Manafort's Brooklyn brownstone. For the record, I know nothing about it. Heh, heh.
Katia is just a Brooklyn woman who normally writes about restaurant openings and park events in her quiet, gentrified neighborhood. But she became one of the snowballs that started the biggest investigative media avalanche since Watergate, proving the value of an alert citizen with a blog.
It's nice seeing Katia getting some recognition. The Daily Beast did an article on her and her cyber-partners today. If Pulitzer had a category for Citizen Journalist, Katia would surely win it.
Spoiler: Paul Manafort was convicted and went to prison. Trump pardoned him on December 23, 2020, as he also did for so many of his crooked friends who could potentially take a deal to flip on Trump later.
2,001 total views, 2 views today