Brownstoner posted a terrific, in-depth article about something topically relevant to this site. But it's also something that I've noticed all over NYC since the early 1970s.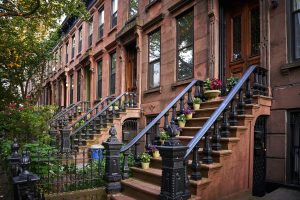 The garden variety NYC row house, brownstone or otherwise, has a stoop to the building's main entrance. This is a tradition that predates ADA codes by generations.  The style dates back to the early Dutch who settled Manhattan and Breukelen, where it was used in the Netherlands to lift the living area of the home above potential flood water. In fact, "stoop" is derived from the Dutch word stoep, which means "step".
Back when these rowhouses were built they were intended as single-family dwellings.  There was usually a sidewalk-level entrance under the stoop to accommodate an apartment, often intended for elderly parents. You can see that entrance in this shot.
Those under-stair entrances were also intended for coal deliveries which as one might imagine were very dirty.  In grander row houses it was also used by servants.
But as NYC real estate became more expensive and city's commerce grew there was a need for more rental apartments. By the 1960s, most NYC brownstones had been converted from single-family to multiple-dwelling apartments. With as many as eight units in these three and four story buildings it didn't make sense to have two separate entrances anymore.  So off came the stoop.
My first apartment in NYC was a third floor floor-through at 224 West 71st Street on the Upper West Side. The owner was a former
merchant mariner who bought both 222 and 224 for the princely sum of $200,000 in the 1960s.  Both buildings had been converted to rentals and both had their stoops removed, probably in the 1930s or 40s, and their main entrances moved to the ground floor, down a couple of steps from the sidewalk. What's interesting in this shot is that 224 was apparently converted back to a single family.  So the stoop was added back, although with little concern for keeping the integrity of the building. That's pretty ugly.
In any event, it's another piece of NYC history and lore landing on the slag heap of progress.
But stoops are making a comeback!  Thanks to Hurricane Sandy and the flooding of Red Hook, Brooklyn and other low-lying neighborhoods, stoops are becoming mandated in flood zones by both building code and insurance companies.  In 2014, the city passed an amendment to the city's building codes for flood-prone zones requiring that living areas be at least two feet above BFE (Base Flood Elevation).